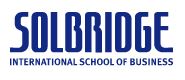 Dear students,
Do you want to find out what kinds of opportunities are available in the job market?
Do you know how to set up realistic career goal that fits you the most?
Do you have trouble in writing a solid resume and outstanding cover letter?
Do you need a practice for job interviews with practical feedback?
We are delighted to introduce a new class "Global Job Searching Practice" for juniors and seniors.
In this class, students will be provided 4-week lectures followed by one-on-one consulting sessions designed for providing tailor-made support for each student's unique job searching endeavor.
We are confident that you will stay productive in this semester with this class as we will take you through the entire recruiting process. For more information, please refer to the course outline attached in this email.
Understand where you stand and get a desired outcome in the upcoming recruiting season!
[ Find your fit! Achieve your career goals via lectures & consulting sessions.]
1. Lecturer
Soyoung Jung, CFA
- B.A. from Yonsei University,
MBA from Anderson School at UCLA,
Finance Specialist Program at KAIST
- Strong work experience at Sears, Roebuck & Co, Target,
ABN Amro and Samsung Securities
- Proven track records in career consulting sessions for both
Korean and foreign students
2. Lectures
- Lectures are designed to introduce recent recruiting process and trend to students as well as provide guidelines/tips to write a strong resume/cover letter in English and Korean.
1) Strategy for getting a job
2) How to write a best resume and cover letter in English
3) How to write a strong self-introduction essay in Korean
4) Prepare for the interviews ? acquire field interview skills/tips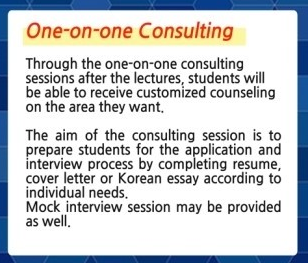 3. One-on-one Consulting
- Through the one-on-one consulting sessions after the lectures, students will be able to receive customized counseling on the area they want.
The aim of the consulting session is to prepare students for the application and interview process by completing resume, cover letter or Korean essay according to individual needs.
Mock interview session may be provided as well.